Natural black cut basalt stones are an excellent choice for construction due to their durability and versatility. These stones, formed from cooled lava, have been used for centuries in various construction projects and continue to be a popular choice today. Whether you are building a new home or renovating an existing structure, incorporating natural black cut basalt stones can enhance the overall aesthetic and functionality of your project.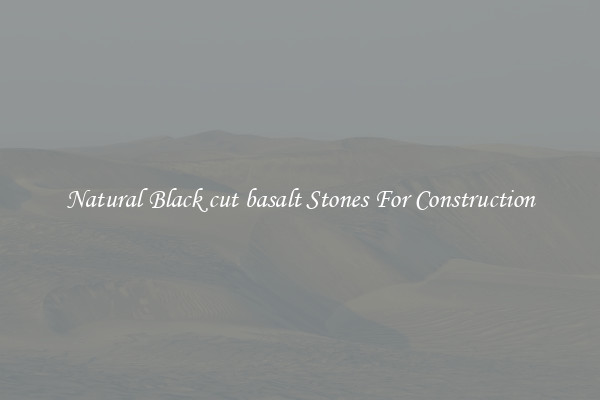 One of the main advantages of using natural black cut basalt stones is their incredible strength and durability. These stones have a high resistance to weathering, erosion, and chemical corrosion, making them ideal for outdoor projects that are exposed to harsh elements. Additionally, basalt stones are non-porous, which means they do not absorb water or moisture, preventing any potential damage caused by freezing and thawing cycles. Their impressive load-bearing capacity also makes them suitable for a variety of applications, including walls, floors, and even structural elements.
Apart from their exceptional strength, natural black cut basalt stones offer a unique and timeless aesthetic appeal. The deep black color adds a touch of elegance and sophistication to any construction project, complementing both modern and traditional design styles. Whether used as cladding or in the form of paving stones, the sleek black surface creates a striking contrast against other materials and surrounding foliage. Moreover, the stones can be cut into various shapes and sizes, allowing for creative patterns and designs that can be customized to meet specific architectural requirements.
In addition to being visually appealing, natural black cut basalt stones are also highly sustainable and environmentally friendly. As a natural resource, they require minimal processing and do not emit harmful chemicals or pollutants. Their long lifespan also reduces the need for frequent replacements, resulting in less waste and reduced carbon footprint. By choosing to incorporate these stones into your construction project, you are not only creating a visually stunning space but also contributing to a more sustainable and eco-conscious environment.
In conclusion, Natural black cut basalt stones possess numerous qualities that make them an excellent choice for construction. Their strength, durability, and aesthetic appeal make them suitable for a variety of applications, from walls and floors to decorative elements. By leveraging the timeless beauty and sustainability of these stones, you can create a visually striking space that will last for generations to come. Whether used in residential or commercial projects, natural black cut basalt stones are an investment that guarantees both aesthetics and functionality.